NOTRE EQUIPE
OUR TEAM
Présidente-Fondatrice (President and Founder): Hanane Abdelmouttalib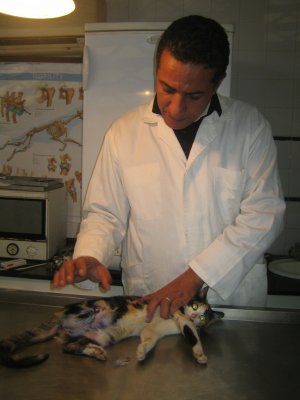 Trésorier (Treasurer) Le Dr. Rahmani donne beaucoup de son temps et soigne bénévolement les animaux sauvés par l'association.
Dr. Rhamani gives a lot of his time to help the animals saved by the association.






Clinique Vétérinaire
Angle rue Lahcen Lâarjoune et rue la Place
Quartier des Hôpitaux - Casablanca
Tel: 05 22 86 04 21/ 05 22 86 37 89

Secrétaire Générale (Secretary-General): Genevieve Bechet



Assesseur (Assessor): Jacqueline Poisson El Maleh
Elodie Fontes est membre bénévole de l'association, responsable de la gestion du site internet et apporte son aide et son soutien. elodie.ahpae@yahoo.fr
Elodie, volunteer member, is in charge of managing our website and provides help and support.
Le Dr El Messaoudi se dévoue corps et ames aux animaux de l'association.
Dr El Messaoudi devotes himself to the animals.




Le Dr Mrabet




Le Dr Kwatar El Cohen


Mostapha et Abdelrahim, les gardiens du refuge.


Josée Carrier, membre bénévole



Nathalie D., membre bénévole



Catherine Dupont, membre bénévole



Armene Mouradiane, membre bénévole